Sealord Frozen Fish with Apple Salad
We all know we should eat more fish, but how many of us actually do? The hassle I find it keeping it fresh when you bring it home from the market. It will only last a few days before it smells, and I usually have a fish craving on a Monday or Wednesday when the market is closed. I wouldn't normally think of purchasing frozen fish. It could been the childhood memories of fish fingers with tomato sauce as pretty much all I can think of when it comes to frozen fish. The fish mush, coated in crumbs, it's not what frozen fish is these days.    

I decided to give Sealord Frozen Fish a whirl, as I heard it is made from wild caught Hoki, a mild white fish, caught in New Zealand waters. The first thing I noticed when I cut into the thick fillets, was it flaked like real, fresh fish. Large flakes as I cut into my fillet. The taste was there too, like a juicy, fresh fish fillet. Who knew frozen fish fillets could be this good.

For me and my lifestyle, eating healthy can be a real challenge. Sometimes we are home all week, some weeks, we don't even know when we will be home. Unfortunately, due to this unstructured schedule, we tend to eat out more than we should. It's always a little win when we managed to get our life sorted enough to have a home cooked meal on those crazy weeks. Having a box of these real fish fillets stashed in the freezer, make for a convenient base for a healthy meal at any time.

We all love fish and chips, deep fried fish, deep fried potato chips, it's delicious! I also love a deep fried fish dish from my favourite Thai restaurant, Jinda Thai. There they deep fry a massive fish fillet, and serve it with this salty, tangy, sweet, spicy apple salad. I did my best to recreate the apple salad at home, with julienned green apple, red onion, chilli, coriander, and a dressing made with fish sauce and lemon juice. Healthy, fresh, delicious, and easy to prepare whilst the fish is in the oven. That's all you need really, something you can prepare in the short time it takes to heat the fish.
Eating more fish is easy enough to say, but most people are conscious of what fish they should be eating. Sealord is MSC certified, which is a global certification that recognises sustainable fish. 

Sealord is available at all Woolworths & Coles.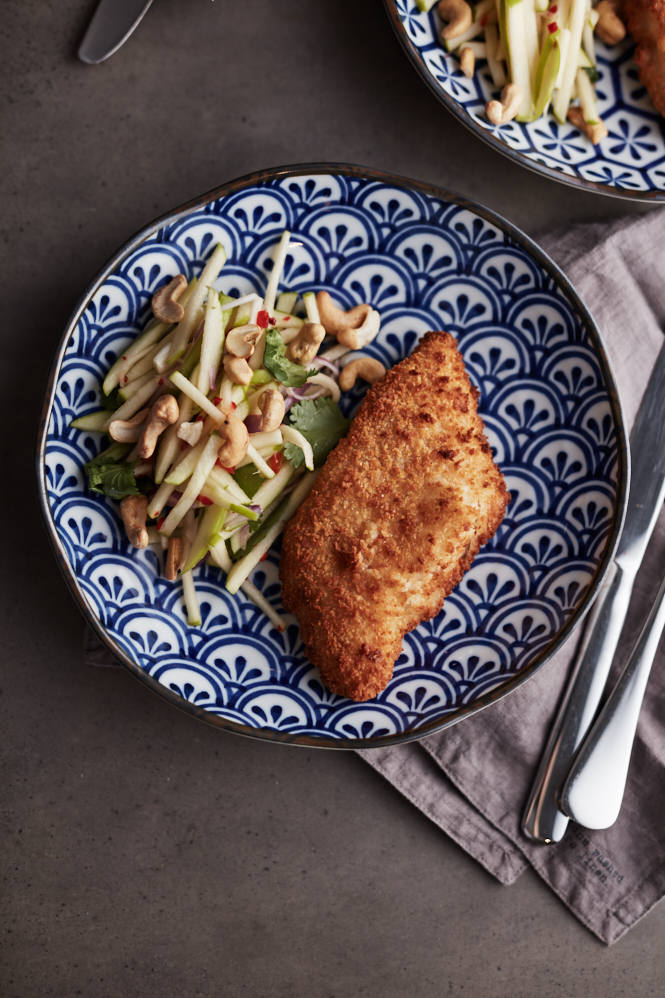 Sealord Frozen Fish with Apple Salad
Print Recipe
Ingredients
1 packet Sealord Multigrain Fish
2 tbs, sugar
2 tbs, hot water
½ lemon, juiced
2 tsp fish sauce
1 small eschalot, finely sliced
1 red chilli, diced
1 green apple, julienned
½ bunch coriander, leaves picked
½ cup, toasted cashews
Instructions
Cook the fish according to packet instructions.

While the fish is cooking, in large bowl combine the sugar, hot water together until sugar is mostly dissolved. Add lemon juice, fish sauce,  escahot, chilli, apple, coriander and cashews and toss to combine. Serve with fish.