Homemade Bagels
How are we all feeling after Christmas? I trust you all had an amazing few days, surrounded by loved ones, too much food and scored some good presents.
I had three feasts, but only ate at two. The main feast was at Mum and Dad's house, where 18 of us enjoyed a buffet style dinner, including ham, pork belly and Dad's first smoked turkey. The turkey had a great flavour and wasn't dry at all. Well done Dad! I was getting worried we would get a dry turkey when he flaked out on the couch during the day. I brought along a few dishes, including my soba noodle salad (sans chicken), Mexican corn, watermelon salad, gingerbread house, pandan chiffon cake and a pavlova.
To see everything that went out, check out my flickr page.
So as we know, the best thing about when Christmas is over is the leftovers! …. and the sales if you are keen like me. I didn't get up super early or tackle Chadstone or the CBD… I'm not that keen.
So with a large container of smoked salmon coming to my possession, I thought it was the perfect time to try a recipe Emma shared on her facebook page. I've been getting bagels recently from Glicks, and will pay around $8.50 for them to slap on some cream cheese, smoked salmon and gerkhins… well let me tell you, now that I can make awesome bagels at home, Glicks won't be my first port of call when I want some bagel action.
So I thought my first batch turned out well, but after editing the photos I made another batch for work lunches this week and they turned out even better! I must have used slightly warm water, as the dough was more puffy and they really swelled up when I boiled them. My shaping second time around was much better too.
Filling options are endless… I even tried a prawn cocktail filling which was ah-mazing!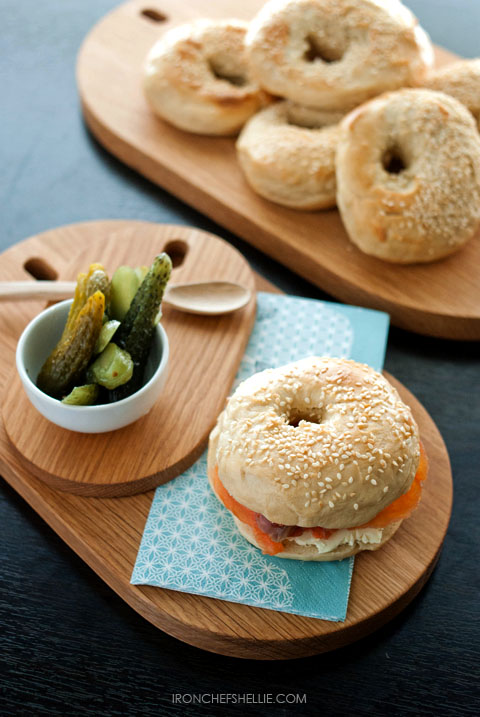 Homemade Bagels
Thermomix Recipe Community
360 ml water
20 g sugar
10 g salt
10 ml vegetable oil
10 g dry yeast
600 g plain flour
1. Mix water, sugar, salt, oil and yeast for 5 seconds on speed 7 to combine.
2. Add the flour. Mix for 6 seconds on speed 7 to combine.
3. Set dial to closed lid position. Knead the dough for 2 minutes on interval speed.
4. Cut the dough into 8 equal sized balls; let rest for 10 – 20 minutes.
5. Preheat your oven to 220°C.
6. Roll each piece into a rope 10-15cms long. Form into a circle, overlapping ends by 1-2 cms, and pinch firmly to seal. Roll these two ends together. (Put your hand through the "ring", the sealed ends should be under your palm, and then roll the end until it is completely fused)
7. Let bagel rings rest 20 mins.
8. Bring pot of water to boil 2-3 inches deep and cover baking tray with oven proof baking paper.
9. Bagels will start to look puffy; it's now time to boil. Boil each bagel for about a minute, turn over and boil another minute.
10. Take them out and let dry for a minute and then place them on your baking tray.
11. Sprinkle with sesame seeds or poppy seeds.
12. Bake at 220°C, after 10 minutes; flip the bagels over and bake for another 10 minutes.