Chocolate Chip Cookies
Friday night and we started our personal training session when the great storm of 2011 hit. Okay, okay… it wasn't really that bad of a storm, but the rain was heavy, there was some lighting and it wasn't safe to be doing squats and weights in the park. So after coming home early I was bored…. so I baked a recipe I flagged to make. A Nigella recipe, so you know it's gonna be a be a good one.
I may have added more chocolate chips than required, but no one complained 😉 Next time I think I might do half quantity of peanut butter or butterscotch chips with chocolate chips…. *drool*
Hamsley enjoyed a fresh cookie outta the oven with some ice-cream. I did not, gotta lose weight ya know! I did sample them, as I how could I not! They are massive cookies, and using an ice-cream scoop really helped portion them evenly, just like when portioning the mixture with cupcakes.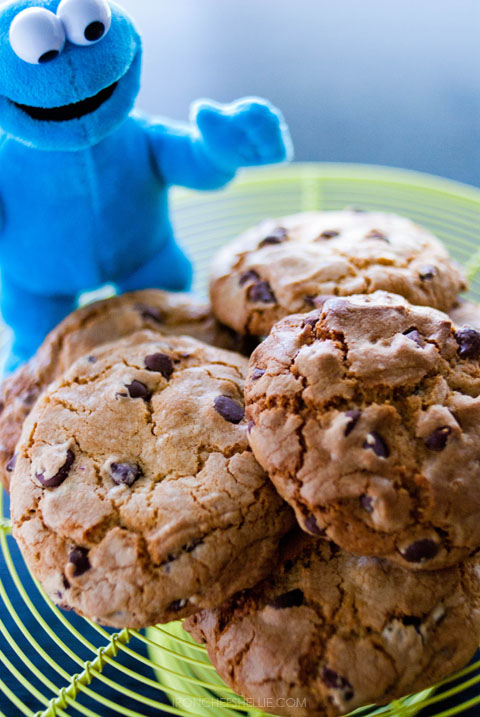 Chocolate Chip Cookies
Nigella Lawson
150g soft unsalted butter
125g soft light brown sugar
100g caster sugar
2 teaspoons vanilla extract
1 egg, fridge-cold
1 egg yolk, fridge-cold
300g flour
1/2 teaspoon bicarbonate of soda
1 x 326g packet of milk chocolate morsels or choc chips
1 x large baking sheet
1. Preheat the oven to 170ºC. Line a baking sheet with baking parchment.
2. Melt the butter and let it cool a bit. Put the brown and white sugars into a bowl, pour the slightly cooled, melted butter over them and beat together.
3. Beat in the vanilla, the cold egg and cold egg yolk until your mixture is light and creamy.
4. Slowly mix in the flour and the bicarb. until just blended, then fold in the chocolate chips.
5. Scoop the cookie dough into an American quarter-cup measure or a 60ml round ice-cream scoop and drop onto the prepared baking sheet, plopping the cookies down about 8cm apart. You will need to make these 2 batches, keeping the bowl of cookie dough in the fridge between batches.
6. Bake for 15-17 minutes in the preheated oven, or until the edges are lightly toasted. Cool on the baking sheet for 5 minutes before transferring to wire racks.
Make Ahead Note: The cookies can be made up to three days ahead and stored in an airtight container. Cookies will keep for a total of five days.
Make approximately 14 cookies.