Sizzling Beef Steak, Hoi Sin Prawn & Noodle Bowls
"This dish from Jamie's 15 minute meals IS as good as it looks. As goes with most of Jamie's 15 minute meals, it takes more like 30 minutes, but if you make this every week, I'm sure you could have it down in 15 minutes no problems. It looks great at tastes fantastic!"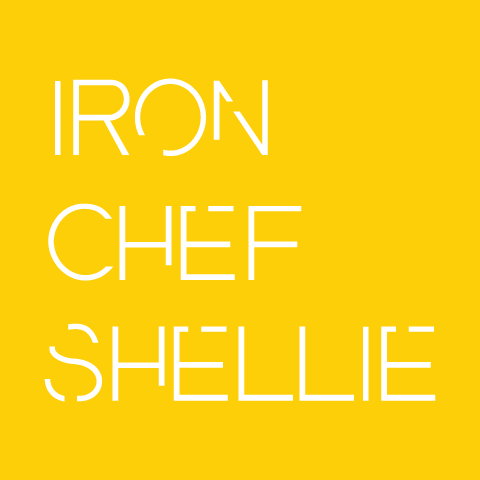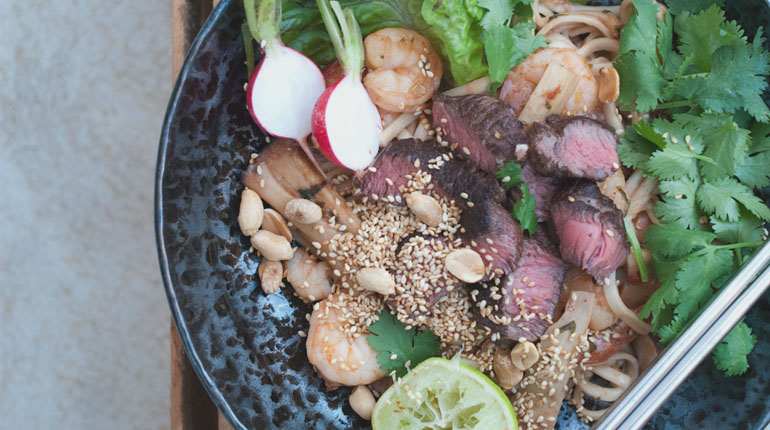 Sizzling Beef Steak, Hoi Sin Prawn & Noodle Bowls
I feel like I'm constantly apologising for the lack of blogging! Since starting my new job, I don't have time to sit around and do nothing, and lately I've been working over time, and rushing off to events to sip French Champagne and schmooze. So don't feel all that sorry for me 😛
I'm sure I'll find a happy balance one of these days, but I'm sure looking forward to the long weekend we have coming up in Melbourne this weekend, even if I'm basically booked out for most of it already!
Anyway, for meals in a hurry, this dish from Jamie's 15 minute meals IS as good as it looks. As goes with most of Jamie's 15 minute meals, it takes more like 30 minutes, but if you make this every week, I'm sure you could have it down in 15 minutes no problems.
There is a great flavour thanks to the five-spice mix, the tang from the lime, and the juiciness of the prawns and steak. It would be great all year around, on the coldest of Wintery days or in the hot Summery days most of us long for.
Sizzling Beef Steak, Hoi Sin Prawn & Noodle Bowls
Jamie Oliver
2 tbsp shelled peanuts
2 tbsp sesame seeds
1/2 – 1 fresh red chilli
1 thumb-sized piece of ginger
2 spring onions
1 bunch of fresh coriander
4 nests of egg noodles
2 cloves of garlic
100g raw peeled tiger prawns
80g bean sprouts
4 tbsp hoi sin sauce
2 tbsp low-salt soy
2 limes
1 cos lettuce
4 radishes
1 punnet of cress
Beef
2 x 200g sirloin steaks, fat removed
1 tbsp Chinese five-spice
2 tbsp sesame oil
250g oyster mushrooms
Toast the peanuts and sesame seeds in the dry wok, tossing often until golden, then tip into a small bowl and put aside, leaving the wok on the heat.
Rub the steaks all over with salt, pepper and the five-spice, then put into the frying pan with half the sesame oil.
Turn the steaks every minute until cooked to your liking, adding the mushrooms after a couple of minutes and removing the steaks to a board when done.
Finely chop the chilli, peeled ginger, trimmed spring onions and half the coriander in the processor.
Half-fill the pan with boiling salted water and add the noodles, then put the lid on.
Put the remaining sesame oil into the wok, add the chopped veg and squash in the unpeeled garlic through a garlic crusher.
Toss for a minute, add the prawns and beansprouts, toss for another minute, then add the hoi sin and soy sauces, the juice of 1 lime and the rest of the coriander leaves.
Use tongs to drain and transfer the noodles straight into the wok and toss in, loosening with a splash of cooking water if needed.
Season to taste and divide between 4 bowls.
Trim the lettuce, break the leaves apart and poke a couple of leaves into each bowl with a halved radish. Snip over the cress and sprinkle with the toasted nuts and seeds.
Cut the steaks into 1cm slices and serve with the crispy mushrooms and lime wedges.
Serves 4.
---
Like Like can lead to Love...
---
Also Recommended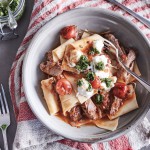 Lamb Shank Ragu with Salsa Verde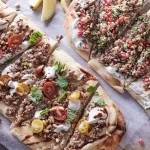 Lamb Pizza Two Ways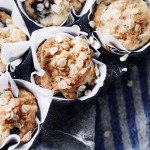 Blueberry Oat And Yoghurt Muffins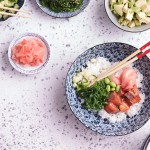 DIY Poke Bowls
The Miele Experience Kitchen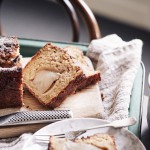 Grounded Pleasures Chai Poached Pear Loaf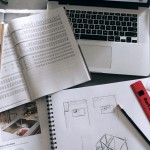 Kitchen Reno – Chapter One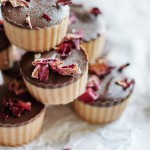 Chocolate Peanut Butter Cups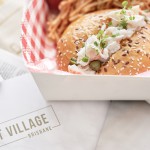 Lobster Rolls Inspired By Peters Square