Gozleme
"I don't believe I had sampled gozleme before until Thursday of last week. Since then, I've had one nearly every day; and I've even banh-mi-dised it. I don't wanna get too cocky, but Banh-mi-dising could be a new food movement!"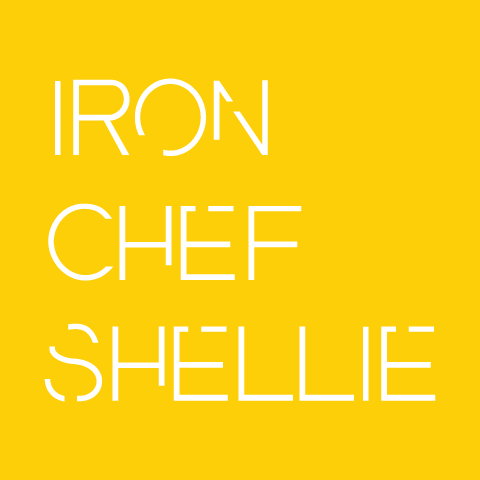 Gozleme
I don't believe I had sampled gozleme before until Thursday of last week. Since then, I've had one nearly every day; and I've even banh-mi-dised it. I don't wanna get too cocky, but Banh-mi-dising could be a new food movement!
I had my friend Katie over for dinner, and since we both have a subscription to the Donna Hay magazine, we both wanted to try making this recipe so we teamed up. I made the mince mixture a couple of days before, and wilted the silver beet. Donna Hay says to use 800 grams of silver beet, but that's waaaaay too much, and if you have a pan that can fit all 800 grams at once, you must work in a catering kitchen.
I was on dough duty, and I had Katie filling them up. Whilst she was scared of over filling them, she filled them up generously and we still had leftovers. After a few minutes in the frying pan we sat down to gozleme heaven! I don't know why I hadn't had a gozleme before, they are just everything you need in one parcel; veggies, meat, cheese and carbs. I really liked it with a squeeze of lemon and yoghurt over the top.
As I mentioned, we had leftovers… and I also had leftovers of my banh mi ingredients from the pizza competition. So, I did something every Turkish person would probably kill me for…. I put banh mi ingredients in a gozleme parcel…. and it was the bomb dot com. SO GOOD!
So whether you have traditional, or banh-mi-dised, I'm sure you'll love them as much as I do!
Moroccan Lamb Gozleme
2 tablespoons olive oil, plus extra, for brushing
400g silver beet, stalks removed & leaves roughly chopped
sea salt & cracked black pepper
1 small brown onion, finely chopped
2 cloves garlic, crushed
500g lamb mince
1 tablespoon harissa paste
1/2 cup flat-leaf parsley leaves, roughly chopped
2 teaspoons sumac
200g feta, crumbled
1 cup shredded Havarti (or mozzarella)
1/2 cup thick greek-style yoghurt, to serve
lemon wedges, to serve
sumac, to serve
Dough
1 teaspoon dry yeast
1/2 teaspoon caster sugar
3/4 cup lukewarm water
1 1/2 cups plain flour
1 teaspoon sea salt flakes
1. Heat 1 tablespoon oil in a large, non-stick frying pan over high heat. Add the silver beet, salt and pepper and cook, stirring frequently, for 3-4 minutes or until just wilted. Drain well on absorbent paper and set aside. Wipe the frying pan clean and heat 1 tablespoon oil over high heat. add the onion and garlic and cook, stirring frequently, for 2-3 minutes or until golden. Add the mince and harissa and cook, breaking up any lumps with a wooden spoon, for 8-10 minutes or until golden and cooked through. Remove from the heat and stir through the salt and pepper, parsley and sumac. Set aside to cool completely.
2. To make the dough, place the yeast, sugar and water in a bowl and mix to combine. Set aside in a warm place for 5 minutes or until bubbles appear on the surface. Place the flour and salt in a bowl and make a well in the centre. Add the yeast mixture and mix together with well-floured hands to form a dough. Turn out onto a lightly floured surface and knead for 3-4 minutes or until smooth and elastic. Place in a lightly greased, large bowl under a clean, damp cloth and set aside in a warm place for 15-20 minutes or until doubled in size.
3. Divide the dough into 4 pieces and roll our on a lightly floured surface to 25 x 35cm rectangles. Place the silver beet, mince mixture, feta and havarti (or mozzarella) cheese onto one side of the rectangles, leaving a 2cm border. Brush to remove any excess flour. Fold the dough over to enclose the filling and press the edges to seal.
4. Heat a large, non-stick frying pan over medium heat. Brush the gozleme with oil and cook, in batches, for 3-4 minutes each side or until golden and cooked through. Serve with yoghurt, lemon wedges and a sprinkle of sumac.
---
Like Like can lead to Love...
---
Also Recommended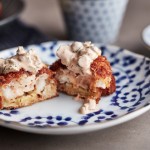 Dan Hong's Garlic Bread Prawn Toasts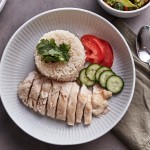 Thermomix Hainanese Chicken Rice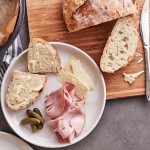 Adrian Richardson's No Knead Sourdough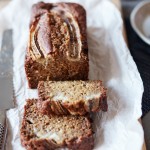 Banana Bread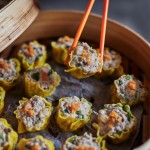 Siu Mai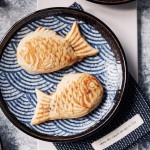 Taiyaki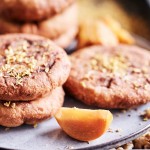 Fried Persimmon Cakes (Shi Zi Bing)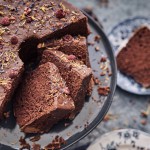 Chocolate Chiffon Cake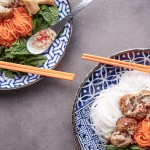 Ginger Pork Meatball Rice Vermicelli Bowls