Turning 28 with Chocolate Cake
Today I turn 28.
For some reason, I like being an even number instead of an odd number.
I also like even numbers on the volume control in my car. OCD much?
I think that being 28 will be a great year for me. I'm looking forward to change. Something new, something fresh, something exciting, something to put me out of my comfort zone… as much as I will hate being out of my cooshy comfort zone!
I've learnt a lot from being on this planet 28 years.
I never stop learning though. My 80-something year old grandma also tells me she never stops learning too <3
You are never insignificant; you can make a difference. Anything is possible, and if it's not, well you haven't tried hard enough. Although sometimes, I do like to just give up!
People will come and go from your life, but the real gems will stay… you people know who you are. I love you people 🙂 <3
Before I get too emo, let's share have some cake.
Chocolate cake to be precise. Who doesn't like love chocolate cake?
Do you like the little cake flags I made? I was having a pinterest spiral at work this week and decided I wanted needed cake flags in my life.
All you have to do is take a piece of ribbon, glue it in place (or if you are pov like me and don't have glue, blutac works just as well!), sorta shape it , then spray it with stiff starch and let dry. Viola! Now you don't need to go buy them! … but you can pay me for this tutorial if you like 😛
This recipe comes from amazing food stylist/photographer and blogger, Katie Quinn Davies. My BFF Alana bought me her book for Christmas, and I knew I had to try this chocolate cake.
When I instagramed the ingredients, a lot of people assumed I was making tiramisu.. oh how wrong they were! I was making myself a birthday cake. Sad. Tragic. Deliciousness. The batter was so good I debated if I should bake it, or just go into the corner and devour the whole bowl. I'll be serving it tonight, minus one slice to my friends 🙂
I'm off to spend the day with family and friends, over food. My "birthday weekend" has been planned purely around food. The way it should be! Stalk my noms through the usual channels twitter or instagram.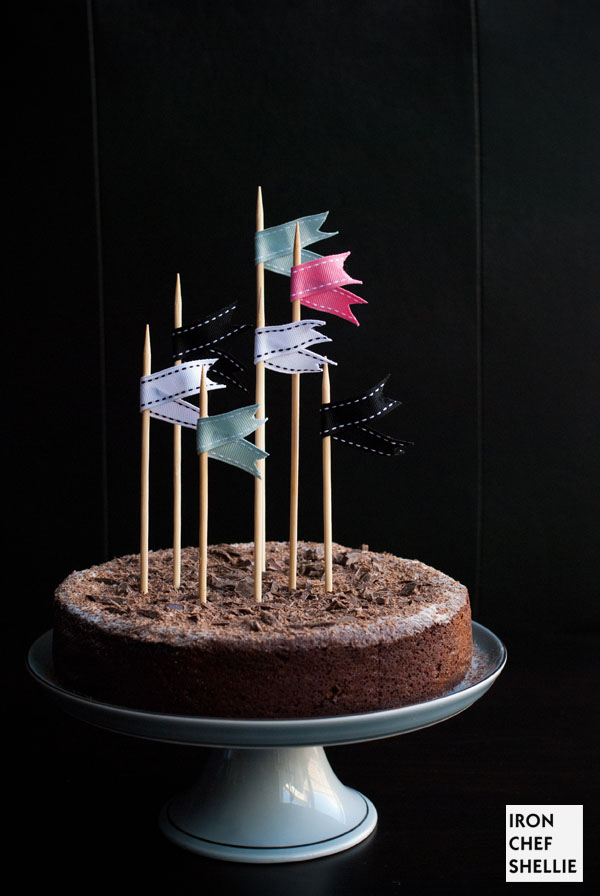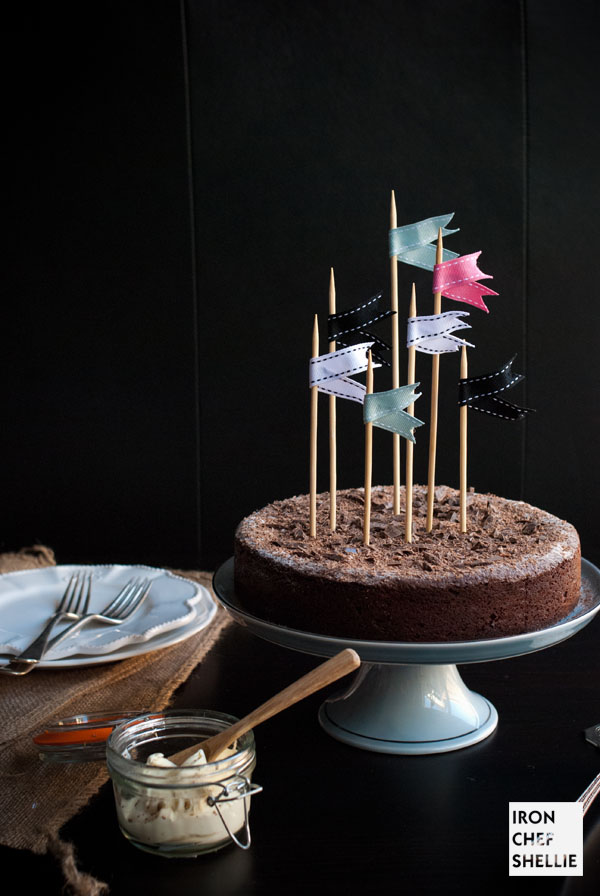 Easy Chocolate Cake
Katie Quinn Davies
6 small savoiardi biscuits, crushed
300g good-quality dark chocolate, broken into small pieces
150g unsalted butter, softened
3/4 (165g) caster sugar
4 free-range eggs
1 1/4 cups (155g) almond meal
150g mascarpone
3 tablespoons Frangelico
Icing sugar, shaved chocolate and double cream, to serve
1. Preheat oven to 180C fan-forced. Grease and line a 22cm round springform tin. Sprinkle with 1 tablespoon of crushed savoiardi biscuits, just to coat the base of the tin.
2. Bring a small saucepan of water to a gentle simmer and melt the chocolate in a small heatproof bowl that fits snugly over the pan without touching the water, stirring occasionally. Carefully remove from the heat and set aside.
3. Using an electric mixer, cream the butter and sugar until light and creamy, then add the eggs one at a time, beating between each addition – don't panic if the mixture resembles scrambled eggs at this stage. Stir in the remaining crush savoiardi biscuits, the almond meal, melted chocolate, mascarpone and Frangelico. Mix until combined.
4. Pour the mixture into the prepared tin and bake for 55-65 mins until the cake has a crust on top and is firm around the edges – a skewer inserted into the centre should come out clean. Be careful not to overcook, as the centre of the cake should remain a little moist.
5. Dust the cooled cake with icing sugar and sprinkle with chocolate shavings before slicing and servie with a generous dollop of cream.