Italian Egg, Prosciutto and Cheese Roll
Theme 8: Eggs
Cookbook Used: Eating Together
Author: Australian Women's Weekly
I finally got struck down with man flu that has been lurking around, and have been feeling rather sad and sorry for myself lately. Have been resting, guzzling juice, and pretty much living under the doonah. Got Hamsley to do dinner a few nights (even if it was pies in the oven), but I managed to muster enough energy to do the egg challenge for lunch today. With the end of daylight savings, taking photos taking good photos is going to be challenge. So anyway, enough about me, more about eggs.
I was going to make this recipe for the last egg challenge but eggs benedict won the draw. This was a very simple dish to make, perfect for brunch or an all day breakfast, without the expense or hassle of going to a cafe. My only suggestion is you toast the focaccia rolls. I thought mine would crisp up easily in a hot oven (my grill is out of order) but they didn't. The flavours were fantastic and won't hesitate to make it again.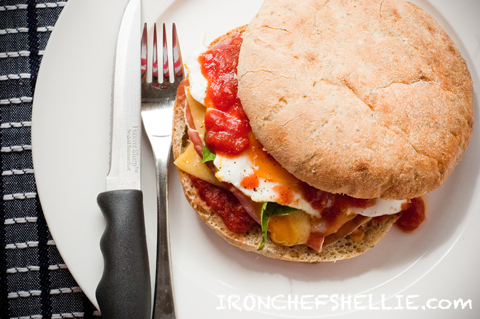 Italian Egg, Prosciutto and Cheese Roll
Australian Women's Weekly
4 eggs
4 focaccia rolls, split
120g taleggio or fontina cheese, sliced thinly
4 slices prosciutto
8 large fresh basil leaves
tomato sauce
400g can crushed tomatoes
1/4 cup (60ml) red wine vinegar
2 tablespoons brown sugar
1. Make tomato sauce: place undrained tomatoes with remaining ingredients in medium saucepan; bring to the boil. Reduce heat; simmer 15 minutes.
2. Preheat grill.
3. Fry eggs in heated oiled medium frying pan until cooked as you like.
4. Spread bottom half of each roll with about one tablespoons of the tomato sauce; place on oven tray,. Layer cheese and prosciutto on rolls; grill until cheese starts to melt. Top each with 2 basil leaves, an egg and remaining tomato sauce; top with remaining roll half.
Serves 4.