Jools' Pregnant Pasta
"Easy to make and makes for great leftovers the next day too!"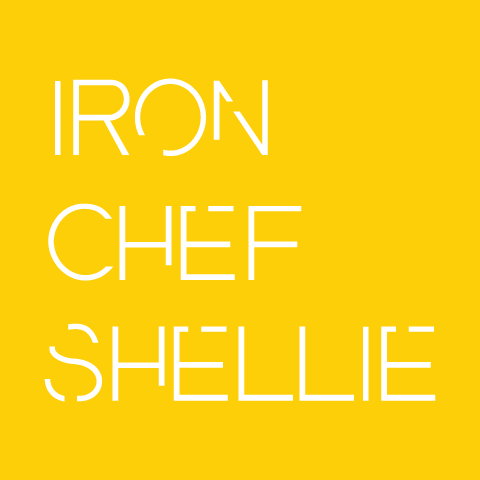 Jools' Pregnant Pasta
So after Cherrie had been cooking practically non-stop from Jamie's 30 Minute Meals cookbook, I started watching the TV show and now want to cook everything from the cookbook.
This recipe goes with a salad and a dessert of frangipane tarts, but instead I made a banana cake (recipe to come) as I had some rather sad bananas in the fruit bowl.
The pasta itself is full of flavour, considering you are essentially making a ragu in 30 minutes, when they usually take hours to make. And let me tell you, this tastes even better the next day for leftovers!
To get the recipe for the tarts and salad that go with this pasta, head to: mydaily.co.uk/2010/10/19/jamie-olivers-30-minute-meals-jools-pregnant-pasta/
Jools' Pregnant Pasta
Jamie Oliver
4 spring onions
1 carrot
1 stick of celery
1–2 fresh red chillies
1 x 6-pack of good-quality sausages
(approx. 400g)
1 heaped teaspoon fennel seeds
1 teaspoon dried oregano
500g dried penne
4 cloves of garlic
4 tablespoons balsamic vinegar
1 x 400g tin of chopped tomatoes
a few sprigs of Greek basil, or regular basil
1. Trim the spring onions, carrot and celery. Roughly chop all the vegetables, then blitz in the food processor with the chillies (stalks removed). Add the sausages, 1 heaped teaspoon of fennel seeds and 1 teaspoon of oregano. Keep pulsing until well mixed, then spoon this mixture into the hot frying pan with a lug of olive oil, breaking it up and stirring as you go.
2. Keep checking on it and stirring while you get on with other jobs.
3. Put a large deep saucepan on a ow heat and fill with boiled water. Fill and reboil the kettle.
4. Top up the saucepan with more boiled water if needed. Season well then add the penne and cook according to packet instructions, with the lid askew.
5 .Crush 4 unpeeled cloves of garlic into the sausage mixture and stir in 4 tablespoons of balsamic vinegar and the tinned tomatoes. Add a little of the starchy cooking water from the pasta to loosen if needed.
6. Drain the pasta, reserving about a wineglass worth of the cooking water. Tip the pasta into the pan of sauce and give it a gentle stir, adding enough of the cooking water to bring it to a silky consistency. Taste, correct the seasoning, then tip into a large serving bowl and take straight to the table with the rest of the Parmesan for grating over. Scatter over a few basil leaves.
---
Like Like can lead to Love...
---
Also Recommended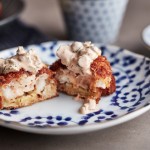 Dan Hong's Garlic Bread Prawn Toasts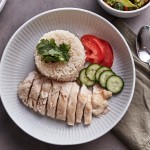 Thermomix Hainanese Chicken Rice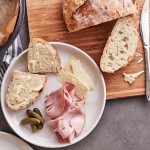 Adrian Richardson's No Knead Sourdough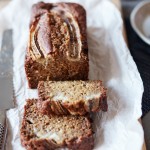 Banana Bread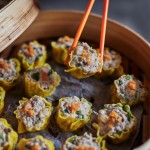 Siu Mai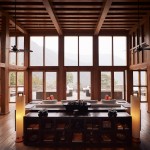 COMO Uma Punakha, Bhutan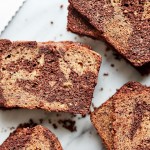 Banana and Chocolate Bread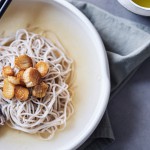 Vegan Scallops with Soba Noodles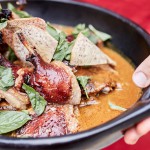 Duck Braised in Coconut