Thermochef vs Thermomix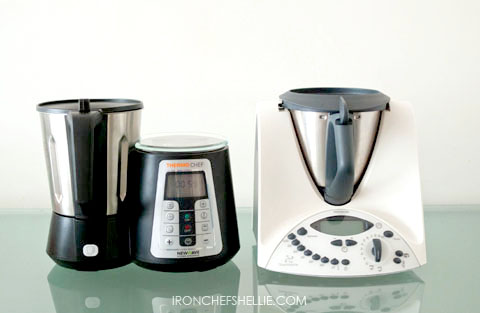 So here it is, my long awaited review; the battle between Thermochef vs Thermomix.
Having owned and frequently used my Thermomix for about a month or so, I was given the opportunity to road test it against the Thermochef. I had my doubts, I had heard stories but decided to adopt a fair approach and attitude when I did a series of tests.
I did a side by side cook off of various recipes, testing chopping, cooking, stirring, steaming to name a few. All whilst being asked "Is the Thermomix REALLY worth the extra $$$ if the Thermochef can do pretty much the same thing?
Well, let me explain my thoughts, and let you decide which you would rather buy.
Thermochef is based on an earlier model Thermomix. They both come with pretty much the same accessories:
1 bowl and blade
1 spatula that can be used to help remove the basket insert
1 basket insert
1 steamer canapé with split level
Basic cookbook to help get you started
The Thermochef comes with an instructional DVD, where as when you get your Thermomix delivered, the consultant spends about 15-20 minutes setting it up and showing you all the functions, making sure you understand what you are doing before they leave.
I know when I get a new gadget, I can't be bothered reading how to use it, I just want to get in there and use it. So whilst I could figure out most of the functions due to my previous experience with the Thermomix, I had to consult the book. I found the videos on the DVD too long and boring to sit through.
The spatula for the Thermochef comes apart in 3 sections whereas the Thermomix's spatula is just one piece. I wasn't a fan of having to pull apart the spatula to be able to use the bit that acts as a handle to get the basket insert out. Thermomix's spatula has a hook which allows for easy removal of the basket.
The butterfly attachments differ as well. The Thermomix's butterfly has angled teeth on the outside  helping to keep the integrity of the food intact as it moves around in the bowl.
The blades of the Thermochef aren't angled the same as the Thermomix. They may look the same but they aren't. This resulted in my food being chopped up as you will see below. I believe the angles of the blades doesn't allow for as much of a proper stir as the Thermomix does, as I will also explain below.
So the first thing I made with the Thermochef was mashed potato. I had made mashed potato using the Thermomix the week prior, which simply involved putting cubed potatoes and milk into the Thermomix bowl, letting it cook for about 20 minutes, then putting in the butterfly for a short while to make the mash light and creamy and I was done. Whilst it was underway I was able to kick back and watch telly for 20 minutes.
When I went to make mash with the Thermochef, I found it was more effort than using the Thermomix. I followed the Thermochef's recipe to a tee, and resulted in a mashed potato with lumps. I was forever putting things in, taking things out. I wasn't able to go do other things as easily.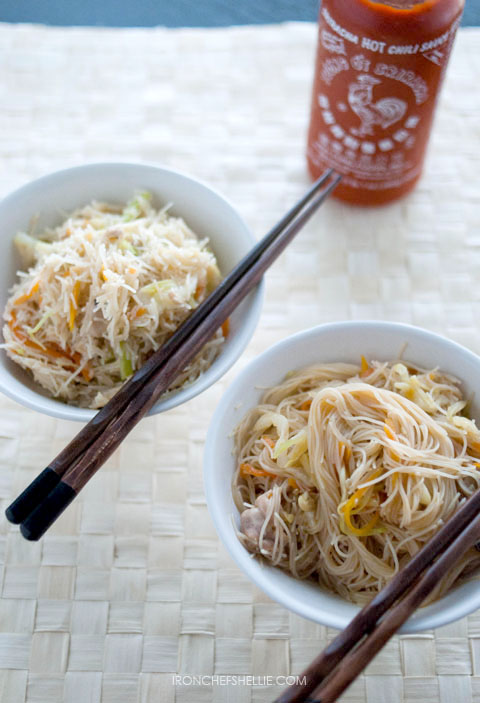 Fried Bee Hoon: left – Thermochef, right – Thermomix.
Next I tried my favourite dish that I make in the Thermomix, fried bee hoon. Many people had said that they easily adapted Thermomix recipe to the Thermochef, so I gave it a go. Well, this is when I really became frustrated with the Thermochef. I had barely started, I had put my diced chicken in to cook and stir with the butterfly attachment locked into place, and it was not 5 seconds into stirring and the butterfly in the Thermochef had come off and was just going around loosely in the bowl. This meant I had to stop/pause the machine so I could unlock the lid and put the butterfly back on again. This resulted in all my settings (speed, time, temperature) being lost and having to put them in again. Whereas when you stop the Thermomix to have a taste or add something, all your settings stay the same, you just need to turn the dial to what speed you had on before and it will pick up from where it left off. I had quite a few moments where the butterfly detached whilst using the Thermochef, which meant I was constantly having to reset all my settings, and I was losing patience very quickly. Due to the butterfly coming off so often, I wasn't able to walk away from the machine to do other stuff, just in case I had to attach it again.
I remember people being impressed at Thermomix demos, with how easily the Thermomix can do a risottoand keeping the grain of the rice intact. I thought surely the Thermochef could handle a risotto.
Risotto: left – Thermochef, right – Thermomix.
To grate the parmesan cheese in the Thermomix, you put in whatever amount you want, however big you want, and put on the required speed. When grating cheese in the Thermochef, I had to cut the cheese in cubes, and then blend by slowly increasing the speed. The scales of Thermochef also don't work whilst the lid is locked. I didn't overfill the bowl or anything, but once again, the butterfly kept coming detached. When I did eventually have enough and decided to walk away, I came back to the liquid bubbling and spilling over through the hole in the top. I had to stop it immediately as it was causing a mess. It was only a few minutes of being finished by the time I had realised what was going on, and was left with more of a 'porridigy' risotto, than a restaurant quality risotto.
I could smell the motor of the Thermochef for quite some time. People have said it goes away, but I'm yet to experience that. With the Thermomix I have never smelt the motor.
The Thermochef is noisier than the Thermomix. I felt like I was cooking with the hairdryer on high constantly. I'm not saying the Thermomix is a silent machine, it does make noise, but not constantly like a hairdryer.
Thermochef lid had a small gap between the bowl and the seal.
The lid on the Thermomix locks the bowl in place, where as you can remove the bowl at any time with the Thermochef, even whilst it is beating or cooking. You also have to press a button to release the bowl on the Thermochef which I found annoying, instead of just being able to pick it up.
The Thermochef scales are more flexible by reading in 1g increments, whereas the Thermomix only goes up in 5g increments. This means if I'm not using the Thermomix and want a precise measurement, I will get out my other kitchen scales. The scales on the Thermochef are separate to the bowl, whilst the Thermomix's scales are built in under the bowl, so you can measure straight into the bowl. I wasn't too sure if I would prefer separate or integrated scales, but after lots of testing, let me say, integrated scales are far better. If I wanted to measure into the bowl with the Thermochef I had to unlock the bowl and put it on the scales, but then it would error out if I exceeded 3kg. The problem with separate scales is you have more cleaning.
Going through the cookbooks for both, Thermomix recipes allow you to cook the pasta in the machine, whereas similar recipes for the Thermochef say "serve with cooked pasta". This is probably due to the fact that the lack of reverse function would result in you having chopped up pasta.
Finally, the price. People will often question whythe Thermomix retails for $1939, when they can get the Thermochef for $795 from Kitchenware Direct for basically what they believe to be a similar performing machine.
Thermomix offers different payment plans to cover the cost of the $1939, whereas if you are buying a Thermochef, you have to pay it outright (or lay-by if your retailer has this option).
I've heard people complain that they don't want to have to attend a Thermomix demo party, or have a consultant in their home, and they would rather just buy it off the shelf. Thermomix is used in commercial kitchens all over the world. Some examples are: Adriano Zumbo, George Calombaris, and many more, there are lots of functions to see, more than the Thermochef, so it makes sense to see it at a demo party and buy from there.
If I hadn't been spoilt with the Thermomix, or the Thermomix wasn't on the market, I'd choose a Thermochef. The Thermomix is expensive against the Thermochef, but the Thermochef is expensive for what it can do.
I just recently found out from Dani Valent, author of the lastest Thermomix cookbook "In The Mix, Great Thermomix Recipes" that you can use your Thermomix to get the seeds out of a pomegranate! I saw it in action and can't wait to give it a go myself!
Thermomix TM 31

Thermochef Natura

Price

$1939 AUD
3 payment plans available: outright, 3 payments, or

currently 12 months interest free. Only

available through Thermomix Consultants, which includes a delivery demonstration, Everyday recipe cookbook, spatula, basket insert, steam trays, butterfly attachment and instruction manual.

Extras include a Thermoserver if you have a delivery demo as a party.

Price also includes after delivery support, being able to contact your consultant at any time for information or help.

German design, made in France.

$795 AUD
Once off payment, unless you lay-by it. Available through Kitchenware Direct, or other kitchen retailers.Price includes a cook book of basic recipes, DVD, spatula, basket insert, steam trays, butterfly attachment and instruction manual.Made in China.

Warranty

Thermomix and Varoma carry a 24 month warranty against faulty parts and workmanship when used in a domestic environment.
Guaranteed against defects caused by faulty workmanship and materials for 2 years domestic use.
Power
500W and goes from 100 up to 10,200 RPM (revs per minute).Maintenance-free, Vorwerk reluctance motor.

550W and goes from 110 up to 8,700 RPM (revs per minute).

Lid and Seal

The lid locks into the place and you can't physically remove the bowl unless the lid is off.

The seal is separate to the lid and can be taken out for easy cleaning. It can easily be replaced without the need to replace the entire lid.

The lid is extremely stiff to remove and put on. The lid also leaves a small gap between the bowl around the spout area, which can cause some splashing.

When the seal wears out or breaks, you need to replace the entire lid.

Spatula

The spatula is a single unit that does not come apart. With a hook for removing the basket insert from the machine.

The spatula comes apart in three sections, and you need to take it apart to be able to use the clip to take the basket insert out from the machine.

Butterfly Attachment

Has teeth on the outside to help keep the food intact.

No teeth on the outside.

Reverse Function

Yes, allows food to stay in chunks when required.

No, can tend to chop or mush food more than intended.

Scales

Scales are integrated into the machine, allowing you to measure into the bowl.

Measuring range from 5 to 100g in 5g increments; 100 to 2000g in 10g increments (to max 2kg).

Scales are separate to the bowl, and go up in 1 gram increments. There is a maximum load of 3kg.

Bowl and Blades

2 litre capacity.

Is made from surgical grade stainless steel with heating system and temperature sensor integrated.

Is dishwasher safe.

Blades can be removed for easy cleaning.

2 litre capacity.

Made from stainless steel.

Not dishwasher safe.

Blades can be removed for easy cleaning.

Pausing Whilst Cooking

If you need to stop the machine to taste your food, or add ingredients whilst cooking, just remove the lid, do what you need to do, then simply select the speed you want, and all the settings for temperature, and time are remembered, and resumes from where you left off.

If you need to stop the machine to taste your food, or add ingredients whilst cooking, you will lose all settings: time, temperature, speed. Extremely annoying if you don't know where you were at.

Temperature

37-100°C + Varoama (steaming)

37-100°C
Click here for more information on Thermomix.
Click here for more information on Thermochef.
If you are interested in purchasing a Thermomix, I have consultant details in Melbourne & Perth I'd be happy to recommend. Just email me using the contact details on the contact page.
Iron Chef Shellie road tested the Thermochef courtesy of Kitchenware Direct. The Thermomix was already a part of Iron Chef Shellie's kitchen. Testing of both appliances occured over several weeks.
Edit 5/11/12 – I have had quite a few people contact to ask me to review other similar machines to the Thermomix and Thermochef. I will not be testing any other products that are similar. The Thermomix was purchased out of my own money, whilst the Thermochef, as stated on this review was given to me by Kitchenware Direct. I do not wish to purchase any other similar machines to road test, as these reviews take up a lot of my time and money. If you are after further reviews on either of these machines, or any other ones similar, I suggest you check out what CHOICE have to say.

Comments
94 Responses to "Thermochef vs Thermomix"
Trackbacks
Check out what others are saying...