Thai Milk Tea Crepe Cake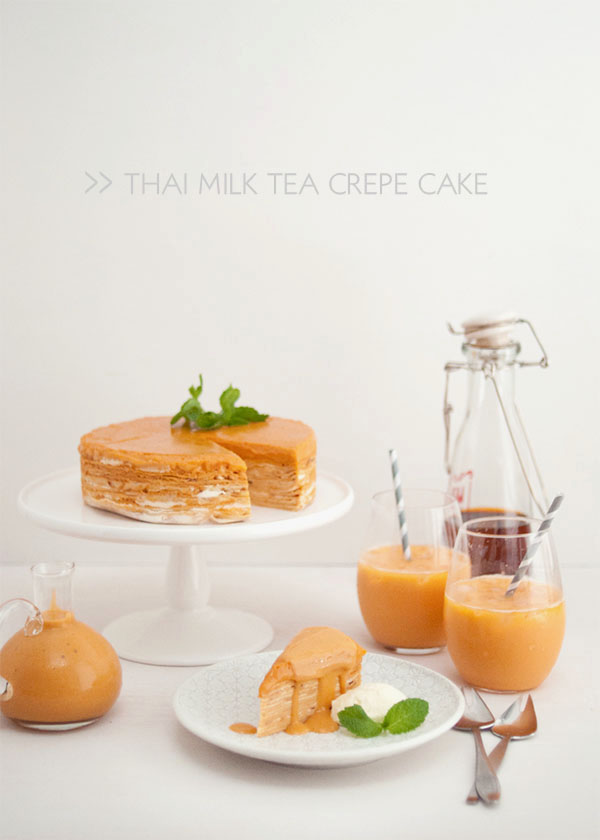 I'm sure every year I say this, but; I still can't believe I'm blogging. I was sure I wouldn't even last 6 months. I can't believe this humble little blog is still going.
It motivates me to push myself, be inspired, inspire others and provides me with a lot of work but a lot more joy.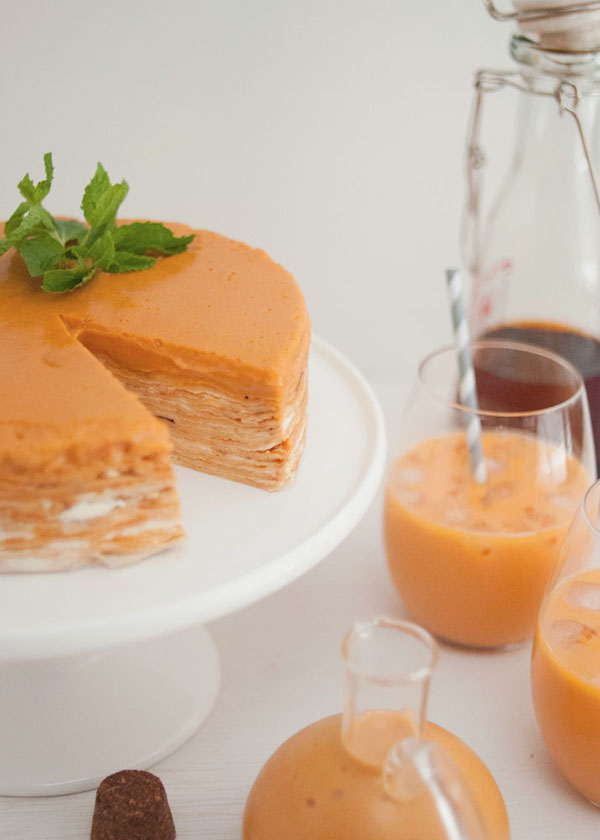 So in keeping with tradition, of course I made a cake. Instead of just getting one that looked pretty in a book, I had to use my head and get thinking. When I went to Jinda Thai not too long ago with Toddy, Ewster, and Haz & Gaz; the must have item was the Thai Milk Tea Crepe Cake. It was amazing. Thanh went next door and bought a rainbow one straight after dinner, then on a second visit bought another slice to take home. I couldn't for the life of me find a recipe online for it, so I had to do some research on how I could do the filling between the crepes.
I also made a drizzle sauce which I swear I could just eat by the spoonful if no one would judge me. It was amazing if I may say so myself.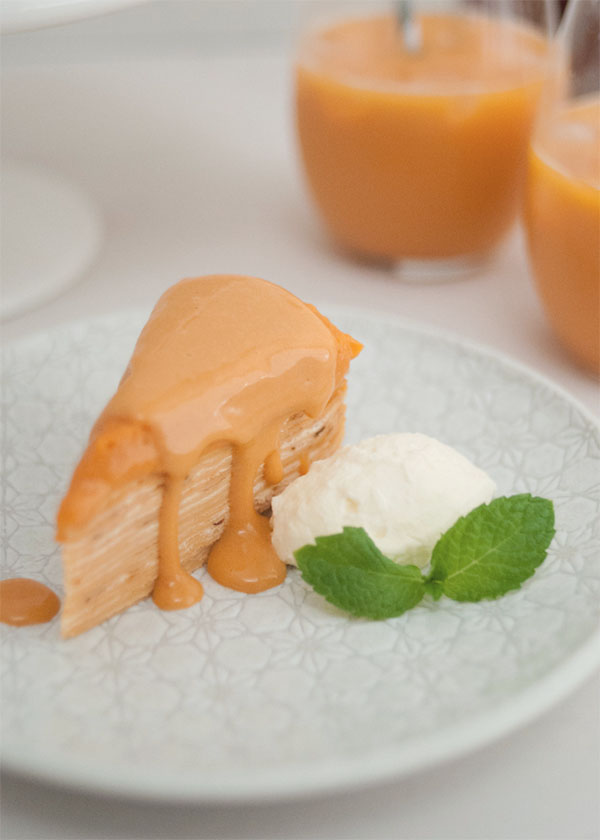 I put my hat on as the cake express and promptly delivered nice big wedges of the cake, including the sauce to Toddy and Haz & Gaz where it was very well received. Lot of people have been requesting to try it, so I'll be attempting to make two this weekend. Go hard or go home… wait I'll already be home, how does that work?
Anyway, enjoy!
I will update the recipe if I find some elements not working out when I make it again this weekend.
Happy 6th Birthday Iron Chef Shellie 🙂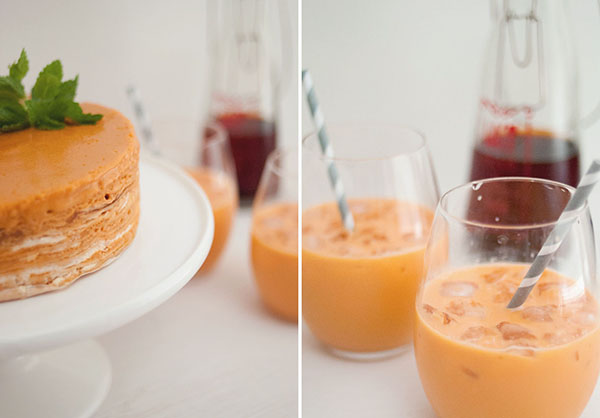 Thai Milk Tea Crepe Cake
Adapted from Joy of Kosher – Mille Crepe Cake
Crepes
4 large eggs
360ml milk
240ml water
300g plain flour
6tbs melted butter
Butter, for coating the pan
Pastry Cream
3 Thai Milk Tea tea bags
120ml boiling water
420ml milk
6 egg yolks
150g caster sugar
55g corn-flour
1 vanilla bean split (or 1 teaspoon vanilla bean paste)
pinch salt
1 leaf gold strength gelatine
Drizzle Sauce
3 Thai Milk Tea tea bags
120ml boiling water
420ml milk
6 egg yolks
150g caster sugar
55g corn-flour
1 vanilla bean split (or 1 teaspoon vanilla bean paste)
pinch salt
Assembly and To Serve
400g whipped cream
fresh mint, to serve
For the crepes:
In a blender, combine all of the ingredients and pulse for 10 seconds. Place the crepe batter in the refrigerator for at least 1 hour. (This allows the bubbles to subside so the crepes will be less likely to tear during cooking.) The batter will keep for up to 48 hours.
Heat a small non-stick pan. Add butter to coat. Pour 2-3 tbs of batter into the center of the pan and swirl to spread evenly. Cook for 30 seconds and flip. Cook for another 10 seconds and remove to the cutting board. Lay them out flat so they can cool, you can stack the crepes, they will not stick to each other.
Continue until all batter is gone. After they have cooled you can store the crepes in sealable plastic bags in the refrigerator for several days or in the freezer for up to two months.
For the Thai milk tea pastry cream:
In medium bowl, whisk together 120ml Thai milk tea, egg yolks, 75g sugar, and cornstarch.
Transfer the remaining Thai milk tea to heavy medium saucepan. Scrape in seeds from vanilla bean and the seed and the pod to the pan and add the salt. Sprinkle the remaining sugar over, letting sugar sink undisturbed to bottom. Set pan over moderate heat and bring to simmer without stirring.
Whisk hot milk mixture, then gradually whisk into egg yolk mixture (this is called tempering). You want to do this slowly or you will have scrambled eggs.
Return to saucepan over moderate heat and cook, whisking constantly, until pastry cream simmers and thickens, about 1 minute. Remove from heat, discard vanilla pod, and whisk cream until smooth. Transfer to bowl and press plastic wrap or parchment directly onto surface. Chill until cold, about 4 hours. (Pastry cream can be made ahead and refrigerated, wrapped well with plastic wrap or parchment on surface, up to 3 days.)
For the Thai milk tea drizzle sauce:
Follow the steps as above for the pastry cream, except cook for a little longer to make it thicker. Be sure to keep whisking to ensure you don't end up with lumpy bits down the bottom. I found whisking then transferring to a large mixing bowl, then back into the saucepan a few times to be really helpful.
Assemble the cake:
Soak gelatine leave in cold water for about 15 minutes.
Use the base of an 18cm cake tin as a template to trim the crepes to size. Then line the base and sides of the tin, ready for assembly.
Place one crepe in the cake tin. Spread one tablespoon of pastry cream evenly over the crepe. Lay your next crepe on the bench or a plate and spread evenly with one tablespoon of whipped cream. Carefully pick it up and lay it over the crepe in the cake tin, cream side down. Continue with pastry cream and whipped cream until the final crepe has been added. Or until around 13 layers high.
Squeeze excess water from the gelatine leaves, add to the remaining pastry cream and gently heat and stir over a stove until gelatine is dissolved. Pour this on top of the crepe cake and smooth the top.
Chill the cake for 2 hours or overnight to firm up.
Serve with whipped cream and fresh mint.