Maple Ribs
"Theme 6: American Cookbook Used: Nigella Express Author: Nigella Lawson I was so sure I'd be cooking from Jamie's America or the New Orleans cookbook my aunty gave me. I was also certain I was going to be doing ribs, but bought spare ribs instead of rack ribs… doh. I was also running low on..."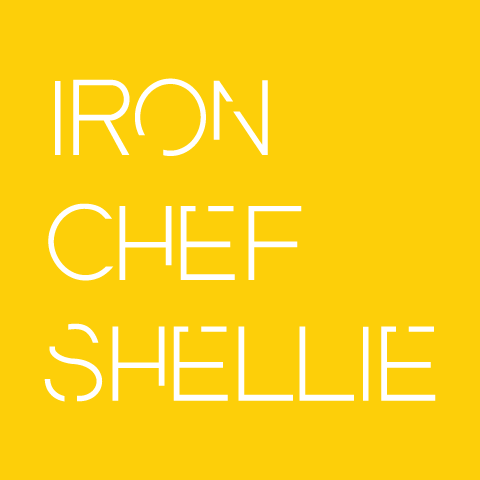 Maple Ribs
Theme 6: American
Cookbook Used: Nigella Express
Author: Nigella Lawson
I was so sure I'd be cooking from Jamie's America or the New Orleans cookbook my aunty gave me. I was also certain I was going to be doing ribs, but bought spare ribs instead of rack ribs… doh. I was also running low on time so decided to go with a Nigella recipe I'd recently seen her cook; it seemed far too easy, and fitted the theme.
The recipe is actually chicken and ribs, but I just did ribs. I think it would have been much better with the chicken, as more ribs rendered down more fat, leaving the roasting dish rather oily. I'll give it a go again with the chicken thighs as the recipe states before I say yay or nay on this recipe.
Maple Chicken 'N' Ribs
Nigella Lawson
12 pork spare ribs
12 chicken thighs, skin and bone still on
250ml apple juice, as sharp as possible
4 x 15ml tablespoons maple syrup
2 x 15ml tablespoons vegetable oil
2 x 15ml tablespoons soy sauce
2 star anise
1 cinnamon stick, halved
6 cloves garlic, unpeeled
1. Put the ribs and chicken pieces in a couple of large freezer bags or into a dish.
2. Add the remaining ingredients, squelching everything together well, before sealing the bag or covering the dish.
3. Leave to marinate in the fridge overnight or up to two days.
4. When the marinating time is up, take the dish out of the fridge and preheat the oven to 200°/gas mark 6.
5. Pour the contents of the freezer bag into one or two large roasting tins (making sure the chicken is skin-side up), place in the oven and cook for about an hour and a quarter, by which time everything should be sticky and glossed conker-brown.
Serves: 6-8
---
Like Like can lead to Love...
---
Also Recommended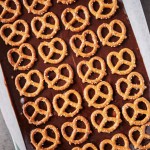 Salted Pretzel Brownies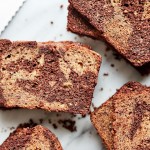 Banana and Chocolate Bread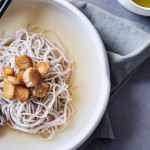 Vegan Scallops with Soba Noodles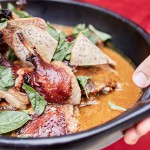 Duck Braised in Coconut
Street Eats Bangkok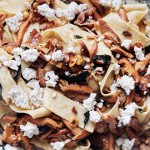 Pine Mushroom Pasta with Bacon & Sage
S.Pellegrino Young Chef 2018, Milan Italy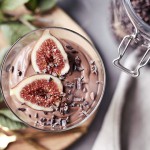 Chocolate Tofu Mousse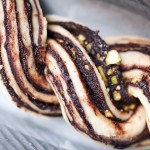 Ten Years On with Chocolate Krantz Cake