Prawn Fried Rice
"Theme 3: Rice / Noodles Cookbook Used: Fast, Fresh, Simple Author: Donna Hay I picked this recipe because the picture in the book looked amazing. Hamsley said it looked like a taco. (Mez, this is a time I would like to use the #ohHamish tag :P). This is the first recipe from Donna Hay's new..."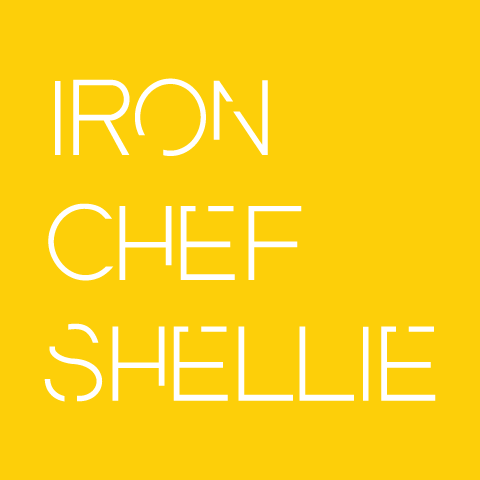 Prawn Fried Rice
Theme 3: Rice / Noodles
Cookbook Used: Fast, Fresh, Simple
Author: Donna Hay
I picked this recipe because the picture in the book looked amazing. Hamsley said it looked like a taco. (Mez, this is a time I would like to use the #ohHamish tag :P).
This is the first recipe from Donna Hay's new book I've tried. Usually Donna Hay can't do much wrong with her recipes from my previous experiences, but this left a lot to be desired. I chose massive prawns for this one, they were so meaty, Hamsley said it was like eating a lamb cutlet. Whilst cooking away, I added the rice and thought this would be rather flavourless, so I decided to add in the soy sauce during the cooking process instead of drizzling it on at the end. This is how I would usually do fried rice, but overall, we found it was a rather flavourless fried rice.
So, alas, Donna Hay's fried rice won't be returning to my kitchen. Sorry Donna!
Prawn Fried Rice
Donna Hay
2 eggs, lightly beaten
2 teaspoons sesame oil
1 tablespoon vegetable oil
2 teaspoons grated ginger
1 long red chilli, finely sliced
4 green onions, finely sliced
10 large green (raw) prawns, peeled and cleaned
4 cups cooked jasmine rice (I found this to be too much)
soy and chilli sauces, to serve
1. Heat a non-stick frying pan over medium heat. Add half of the sesame oil and half of the egg and swirl to coat the pan. Cook for 1 minute or until the egg has set. Remove from pan, set aside and repeat with remaining egg and oil.
2. Heat the frying pan over high heat. Add the vegetable oil, ginger, chilli and onion and cook for 1 minute. Add the prawns and cook for 3 minutes. Add the rice and cook for 2-3 minutes or until warmed through.
3. Place the omelettes on serving plates and spoon over the rice mixture. Drizzle with soy and chilli sauces to serve.
Serves 2.
---
Like Like can lead to Love...
---
Also Recommended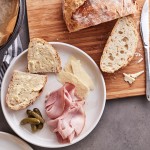 Adrian Richardson's No Knead Sourdough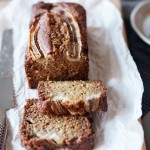 Banana Bread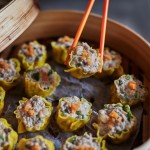 Siu Mai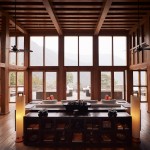 COMO Uma Punakha, Bhutan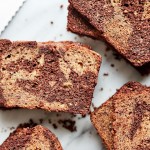 Banana and Chocolate Bread
Have You Met Maria?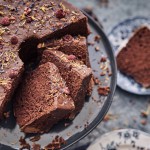 Chocolate Chiffon Cake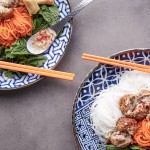 Ginger Pork Meatball Rice Vermicelli Bowls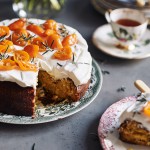 Kumquat and Rosemary Cake