The Dishwashing Ordeal & Nigella's Chocolate Pistachio Fudge
"If you haven't been following me on twitter, you might not know why my blogging streak ended. Wednesday night, Hamsley was washing the dishes, picked up a glass to wash; it slipped from his hands, smashed onto the side of the sink, and a shard of glass landed in his wrist. A call to triple..."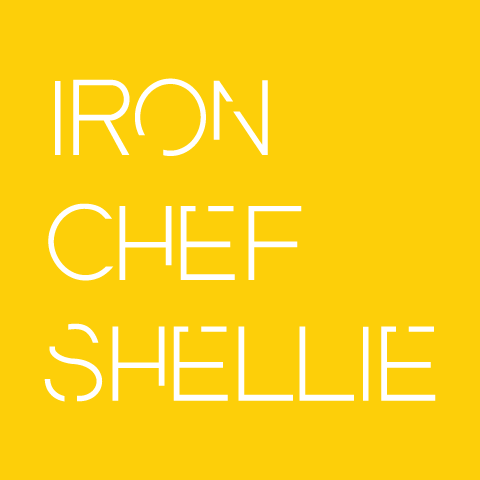 The Dishwashing Ordeal & Nigella's Chocolate Pistachio Fudge
If you haven't been following me on twitter, you might not know why my blogging streak ended. Wednesday night, Hamsley was washing the dishes, picked up a glass to wash; it slipped from his hands, smashed onto the side of the sink, and a shard of glass landed in his wrist. A call to triple zero was made very shortly after as you would imagine. We ended up canceling the ambulance after a short wait as the cut wasn't oozing blood and went to emergency at hospital. After a wait and seen by the doctor, we were told he might have damaged a nerve and would have to have surgery. He spent the night in the pediatric ward (there was another 24 year old in there too), and would need to be transferred to another hospital to see the plastic surgery team to be operated on.
The next day we were expecting to be transferred first thing like the doctor the night before had mentioned, but we sat around till about 4pm when a bed finally became available. Once he had been admitted and we waited for the surgeons to come around. Poor Hamsley fell asleep when one of the surgeons came around to tell us he wouldn't be operated on that night as a trauma case had just come in. He would have to stay the night and be operated on the following day. I waited for him to wake up to tell him, and to tell him he could drink and eat as he had been fasting since midnight and kept complaining how thirsty and hungry he was. Once he was awoken by 4 surgeons coming to check him out properly, he had the 4 tiny sandwiches the nurse had given him, then we went to the cafeteria for a hot meal.
Hamsley had the chicken biscuit (chicken schnitzel so dry and sooooo flat, one handed Hamsley ate it with his hands like a biscuit) with wedges, and I had some surprisingly good cannelloni. It might have just been good cos I had barely eaten all day.
I arrived the following morning where Hamsley was fasting yet again. We waited and waited and then finally he was taken for an x-ray, then more waiting, then finally was whisked away for surgery. We were a bit worried as one surgeon had said he had a 75% chance of getting 75% of being back to normal depending on the nerve damage. Just over 3 hours later of me sitting around watching horrible TV shows and finding meatballs for lunch, Hamsley returns from surgery, a complete comedian under anesthetic. The first thing he told me was the surgeon said he will recover 100%, which puts a huge smile on my face.
So now I'm glad to have him back home again; even if it means I'll be doing the dishes all the time for a while now. We have bought plastic cups instead a of dishwasher. Every person we talked to in the hospital seemed to have a dish washing horror story. There was even someone else in the day treatment centre that was there due to dish washing. So a lesson to you all, please be careful!
All the nurses and doctors were just fantastic. They gave him as much shit as he was giving them, which helped to get through the painful hours of waiting with no answers.
Thank you from the bottom of my heart to everyone who sent wishes. It really helped to lift our spirits and make us feel incredibly loved.
I made Nigella's fudge after seeing it on tv. It was so easy to make, and I didn't have time to bake for Christmas presents. I'm still getting feedback from people saying how much they loved it. Even people who I didn't think would eat it all, saying they couldn't stop eating it!
Chocolate Pistachio Fudge
Nigella Lawson
350g/12oz dark chocolate, at least 70 per cent cocoa solids, chopped
1 x 397g/14oz can condensed milk
30g/1oz butter
pinch salt
150g/5¼oz unsalted pistachios, shells removed
1. Place the chopped chocolate, condensed milk, butter and salt into a heavy-based pan over a low heat and stir until melted and well combined.
2. Place the nuts into a freezer bag and bash them with a rolling pin, until broken up into some large and some small pieces.
3. Add the nuts to the melted chocolate mixture and stir well.
4. Pour the mixture into a 23cm/9in square tray, smoothing the top with a wet palette knife.
5. Let the fudge cool, then refrigerate until set.
6. Cut into small pieces approximately 3cm x 2cm/1¼in x ¾in. Cutting 7 x 7 lines in the tin to give 64 pieces best achieves this.
7. Once cut, the fudge can be kept in the freezer – there's no need to thaw, just eat straight away.
Makes approximately 64 fudge squares.
---
Like Like can lead to Love...
---
Also Recommended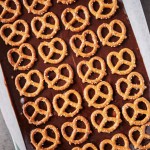 Salted Pretzel Brownies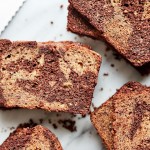 Banana and Chocolate Bread
Have You Met Maria?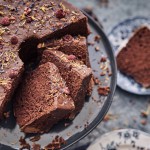 Chocolate Chiffon Cake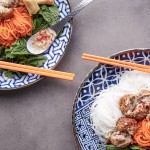 Ginger Pork Meatball Rice Vermicelli Bowls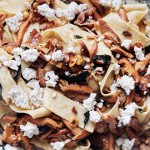 Pine Mushroom Pasta with Bacon & Sage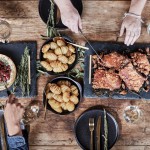 Daylesford Food Photography Workshop with Maxwell & Williams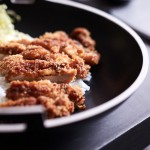 Chicken Tonkatsu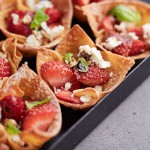 Strawberry Caprese Salad Canapes