Beef Stroganoff…. again
"Ok, so I've been swamped with stuff and finally found some time to post something. I've done beef stroganoff before, but this recipe looked delicious from Valli Little's new book "Faking It". Simple, easy to impress if you have someone coming around and very tasty. Yum! New Beef Stroganoff Valli Little 4 x 180g beef..."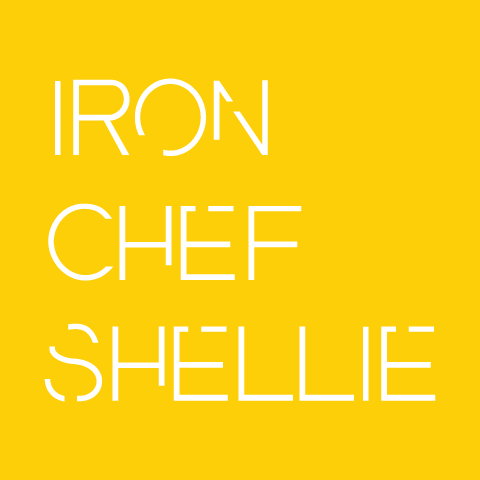 Beef Stroganoff…. again
Ok, so I've been swamped with stuff and finally found some time to post something.
I've done beef stroganoff before, but this recipe looked delicious from Valli Little's new book "Faking It".
Simple, easy to impress if you have someone coming around and very tasty. Yum!
New Beef Stroganoff
Valli Little
4 x 180g beef fillet steaks
1/4 cup (60ml) olive oil, plus extra to brush
2 tablespoons mixed dried peppercorns, crushed
250g swiss brown mushrooms, sliced
2 tablespoons brandy
1 1/4 cups (310ml) beef stock
1 tablespoon Dijon mustard
1/4 cup chopped flat-leaf parsley, plus extra to serve
1/2 cup (125ml) thickened cream
400g pappardelle or fettucine
1. Brush the steaks with a little oil, then season with salt. Sprinkle all over with the crushed peppercorns, gently pressing into the steaks. Heat 1 tablespoon oil in a frypan over medium-high heat. Add the steaks and cook for 2-3 minutes each side until well-seared but still rare in the centre (or until cooked to your liking). Set aside and cover loosely with foil to keep warm.
2. Add the remaining oil t the steak pan. Add mushrooms and cook, stirring, for 3 minutes until they start to soften. Add the brandy and stock, then bring to the hoil. Decrease the heat to medium-low and simmer for 5 minutes or until reduced by half. Stir in the mustard, parsley and cream. Cook for a further minute, stirring, until heated through.
3. Meanwhile, cook the pasta in a saucepan of boiling salted water according to packet instructions. Drain, then add to the pan with the sauce and toss to combine.
4. Slice the steak 1cm-thick on an angle, then divide among plates with the pasta. Drizzle with any sauce left in the pan, then serve garnished with parsley.
Serves 4.
Voila! Bon Appétit!
---
Like Like can lead to Love...
---
Also Recommended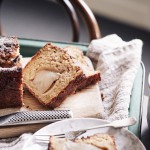 Grounded Pleasures Chai Poached Pear Loaf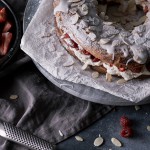 Strawberry and Raspberry Paris Brest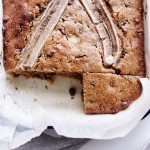 Banana Chocolate Cake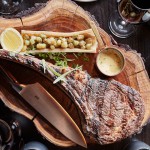 Eating Out: MPD Steak Kitchen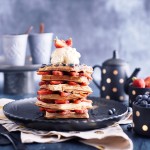 Chai Waffles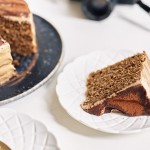 Cappuccino Cake
Bar Schweppes – Lost In London
Chai Pancakes with Chai Poached Pears
---
Shellie Froidevaux
All content on this site by Shellie Froidevaux, otherwise known as Iron Chef Shellie. Her skills include food styling in her kitchen studio, lifestyle and travel photography across Australia, restaurant photography on location, styling and shooting social media for her clients, recipe development with love and photography workshops for people with discerning tastes :)
---
Copyright Please
All images and content on this site are protected by copyright. Written permission is required from the author if you wish to use any material anywhere on this website. Please be nice, please respect my creative work and hard work.
&copy 2015 Shellie Froidevaux.